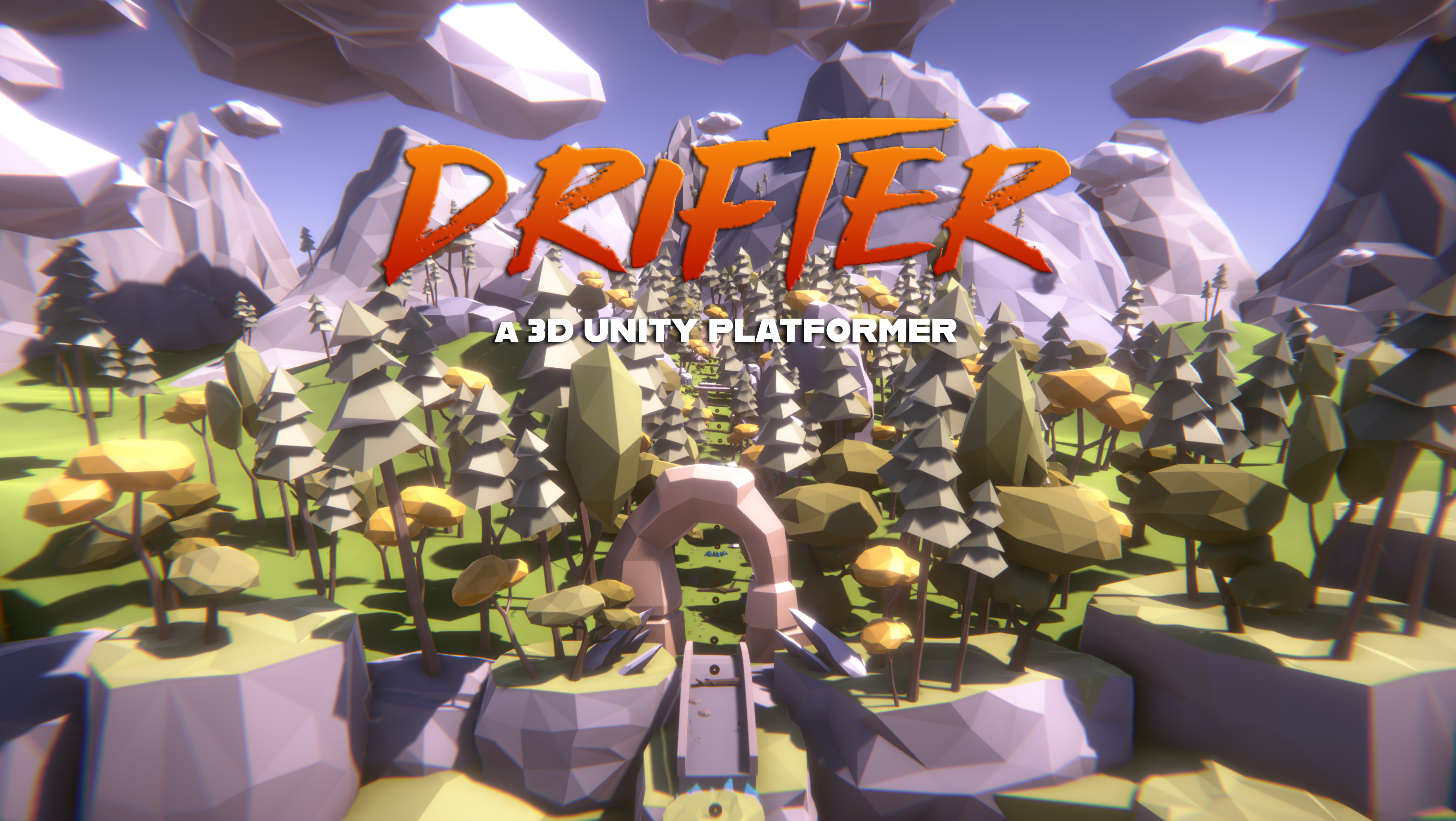 Drifter- 3D Unity Platformer by Andres Molina
A downloadable game for Windows and macOS
A downloadable low-poly 3D-Platformer for Windows and Mac. A 3 week game project made entirely in Unity Version 2019, featuring a port for Windows and Mac OS X.

Description
In Drifter, you are a mysterious knight, who woke up and finds himself in the middle of nowhere, far from home and his ship, in this vast immersive forest ridden with hills, cliffs, deadly obstacles, floating pillars and a whole lot of forest. He remembers he must go on this special mission which he cannot miss. Luckily, a long trail of flying coins are within his view which he must collect and follow, and through these special trails and paths, he must venture through large vast amounts of forests and mountains in order to find his way back.
Details
This game is a 3D platform that utilizes deadly obstacles, collectibles and a vast and beautiful land filled with mystery, wonder, and atmosphere to create a 3D platforming experience where you will grab special collectible coins and travel through the vast and wondrous woods to progress to new forest/mountain-ridden location jumping over deadly obstacles to find your way back home. The game will contain a collection of different levels, each with similar controls and tone but different design maps.
The theme of this game is "atmosphere", because because of the diversity and broadness of the word's theme while allowing me to incorporate additional new elements including mystery, exploration and peacefulness which helps fit in with the design choices and aesthetics, while staying true and remaining faithful to the overall theme and tone.
The main objective of the game is much like an exploration setup, where the player will travel and "drift" through multiple wondrous "atmospheric" lands of vast forests and mountains, but specifically you will collect a wide series of collectible coin which will you collect and will control the path and trail you take, making up the main mechanics. The main challenge is, through collecting these "coins", you will take a trail filled with deadly obstacles in which you will find and collect a key and progress to the next level.
Features/Controls/Gameplay Mechanics
This game will contain the following features and mechanics:
Contains 5 large levels, incredibly vast and immersive locations filled with trees, rocks, cliffs, pillars, crystals, logs, flowers, etc. Each level borrow similar design aesthetic and follow through an overall theme, but contains uniquely distinct level maps and designs that keeps every level different. First level should not be too hard and has an overall linear design to act like a tutorial. The following levels should be more complex in design.
The mechanics and controls of the game is quite simple. The player/sprite will run on it's own, much like others games like Temple Run. The challenging elements that keep the players constantly on their toes are the scattered and dense string of Blue Crystals and death Logs. These deadly objects are scattered across the level and the path you are taking, remember to jump over them at all cost or you will "die" and be taken back to the beginning of the level. Pressing only the space bar, you will jump through these obstacles as well as jump over cliffs and holes to avoid certain doom.
Obstacle Jumping- jumping around and over deadly obstacles, over cliffs, steep pits, and over holes will be a common task to avoid certain death as you progress your way through the forests.
Collectible Coins and Key- The main objective of every level. As you dodge through deadly obstacles, you will collect/absorb a trail of golden coins which will alter the path you take to progress, including a large key at the end of every level which you will collect in order to jump to the next level.
This game should provide a fun/immersive but also quite challenging experience, with a solid coordination learning curve but will bring a swift experience for players who want to explore through an immersive lands and have a good time.

The levels should bring ATMOSPHERE, a sense of wonder, mystery and peacefulness as well as a opportunity for exploration.
The game should provide a very solid sense of progression, through a simple setup in which any narrative or plot-related details are left for the player to craft and create for themselves.
Credits and Additional Sources:
Behind the scenes, breakdown, concept explanations and developmental documentation, as well as additional views and screenshots of the levels can be found here: https://www.artstation.com/artwork/DxJnne
General level blocking, main layouts, concept ideas and overall aesthetic decisions were based on my own. However, I have used and implemented multiple sets of assets and model from outside online sources, as well as the Unity Assets Store as a means to build the levels and fill the levels with dense forests. I also used music that is in public domain to complement levels while avoiding copyright as well.
ASSETS USED
Sound Fx
Sound effects and background Effects from SoundSnap.
Music
*NOTE: All music here are is within public domain.
Akio Yashiro's Symphony #1 (1958)
Respighi_ Brazilian Impressions, P. 153 1. Tropical Night · London Symphony Orchestra · Antal Doráti
Respighi_ Pines of Rome, P. 141 - The Pines of the Janiculum_I pini del Gianicolo _Minneapolis Symphony Orchestra _ Antal Doráti
Hungarian Dance No.11 In D Minor - Orchestrated By Albert Parlow
Hungarian Dance No.17 In F Sharp Minor - Orchestrated By A. Dvorák
Kodály Variations on a Hungarian Folk Song for Orchestra (The Peacock) 6 Finale Vivace
Install instructions
Since the game is compressed into a zip file, you must find or use a zip opener or zip extractor in order to access the folder of each game. And remember to keep all files within the downloaded/extracted folder or else the game won't function correctly.
Download